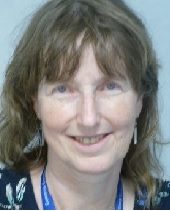 Ruth Willey
Ruth is currently a Trustee and Executive Committee member of the Mathematics Recovery Council UK and Ireland.  She has been involved with Maths Recovery since 2002, and has worked as a trainer and consultant in Cumbria and elsewhere.
Ruth has a lifelong interest in numeracy, having started her career as a secondary teacher and then trained and worked as an educational psychologist and manager in the Midlands and in Cumbria.  Currently, Ruth works part time as an educational psychologist.
Ruth's work as a psychologist has focused strongly on tailoring teaching and support approaches to the learning needs of individual pupils.  This fits very well with the Maths Recovery philosophy, where the direction and nature of the teaching is cued from close observation of what each student knows and understands about number.
Ruth has a strong interest in teacher development, with a focus on how teachers come to understand the process of learning and to be confident to facilitate that for students.  Her doctorate, completed in 2009, was about the impact that Maths Recovery training has on teaching staff's constructs about teaching and learning.
Ruth holds a BSc, a PGCE, and MEd and an DEdPsy.  At the time of writing (April 2021) she is an HCPC registered educational psychologist and an Associate Fellow of the British Psychological Society.